The 898 DJ Team
They say if you love what you do, then you will be successful. 898 DJ & MEDIA started just like this. Anthony was spinning since high school, but decided to put down the records to work on some new projects: first home, marriage and starting a family. Tired of listening to "set formula" DJ's as a guest at weddings and parties; he decided to DJ again mainly for family and friends who asked him to spin at their functions.
His passion was re-ignited. To help out, he asked his old DJ partner, Alfredo to work with him. Together they rock their parties as a DJ and interactive MC.
Having never advertised, 898 DJ booked all of their events through referral only. In the past few years, 898 DJ has grown significantly. Booking over 50 events through referrals only in 2008 is impressive. They have truly earned their success doing what they love to do.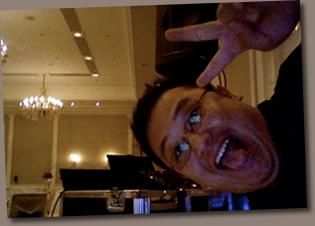 Anthony Pelimiano
Music Aficionado. This is the perfect description of Anthony. His passion for music started early and he progressed to the art of being a DJ in high school.
From clubs to corporate events, he has done it all. As a true DJ, he reads the crowd and does not follow a set formula. He has a talent for listening to his clients and understanding what his audience likes.
Alfredo Meneses
This natural born talker came out of the womb with a microphone in his hand. His talent to get the crowd dancing cannot be beat. Along with being a fabulous MC, Alfredo spends his spare time with his other two loves…his family and his VW car club.